Creamed Again!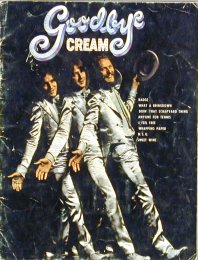 Apparently
Clapton, Baker, and Bruce are getting back together!
Clapton puts sourness aside to reform Cream
November 15, 2004


Eric Clapton has agreed to reform Cream.

Eric Clapton has astounded the music world by finally agreeing to reform Cream, rock's first supergroup, 36 years after they split up at the height of their worldwide fame.

Back then Clapton was declared a "guitar God", Ginger Baker was the epitome of the wild-eyed rock drummer and Jack Bruce was the pioneer of a raw, biting tone for the electric bass. Over two years they sold more than 35 million records, producing a new form of "heavy" music that fused hard rock, blues and jazz. But they were unable to survive their ego-powered celebrity.

There was such venom at the end that, years later, Clapton, right, said the thought of a reunion "scares the living daylights out of me".

John Mayall, the veteran leader of the Bluesbreakers, the British band from which Clapton defected to create Cream in 1966, said on Friday: "I'm amazed. But Eric is always doing something unexpected."

Sources close to the musicians said reunion plans were under way, with Clapton, 59, Bruce, 61, and Baker, 65, talking of "probably two gigs, or maybe more" at the Royal Albert Hall in May.

The hall was where Cream last performed in Britain in November 1968 after shows in America that were earning the trio $US60,000 a night.

Cream have played together only once since, with searing versions of White Room, Crossroads and Sunshine of Your Love, at the Rock'n'Roll Hall of Fame in Los Angeles in 1993.

The Telegraph, London
One amazing thing is that Ginger Baker is still alive! Must've taken lessons from Keith Richards.
######
In other news, I did manage to help out my parents by discovering where and when flu shots were being given out in their area and got them on a waiting list to be called when the next round gets in by their county health dept. I'm surprized that, giving the amount of senior citizens that live in Florida, there ain't a heck of a lot of flu shots there this year even with the shortage. At least there's now a chance they'll get one.
We'll (the film selection committee) starts up again tomorrow after a week's break. The three I'm scheduled to see are
Slutty Summer
,
Surge of Power
, and
Straight-Jacket
. I don't know any of the three but will check out what I can via their links momentarily.