I'm With the Queers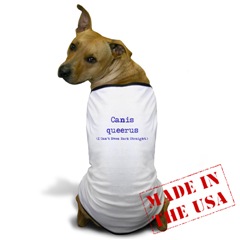 Loved
this pic and had to post it to all those puppy-owned glbt people out there. (And also in memory of Charles Deepdale A., Caliban E., and Sasha W.) The shirt reads: "Canis Queerus (I Can't Even Bark Straight)"
Found it with a few other things for sale over at
Parents and Friends of Ex-Straights and Straights
. It's a parody site of P-FOX and I'm happy to see someone did it.
######
And yes,
Gregg
! I'll get to that meme soon! I promise! Really! I swear!