Harold and Maude: The Musical!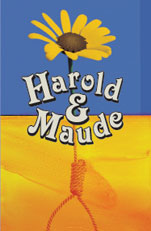 While I was reading my copy of the latest issue of American Theatre magazine, I saw that one of my top fave flicks of all time was actually made into a musical!
The Paper Mill Playhouse
in Milburn, N.J. is staging it from January 5th thru February 13th, 2005 with
Estelle Parsons
as Maude.
I've
NO
idea how this will turn out! It could be a complete bomb but then again, it could be great! The
original movie
is untoppable and
Ruth Gordon
is the ultimate Maude, in my opinion. I hope it does work out, tho. I'm looking forward to seeing what the reviews say.
Here's the link to
the Paper Mill's page for it
.