The FELT Agenda or Adam and Eve Not Adam and Sleeve!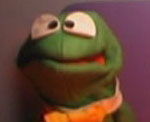 RAG!

Thanks go to
Sturtle
for mentioning that the good folks at Gawker Media have added a couple of more sites to their family:
Screenhead
("An online review of,um, funny shit"), and
Kotaku
(for gaming fans).
At
Screenhead
, there's a link to a wonderful send-off of the Not-So-Rev. Phred Phelps' (may he rot in his own existance) site here:
God Hates Rags
. There's a great movie there titled
"FELT: Tearing the Fabric of America"
to check out.
There's other very funny stuff at the Screenhead site to check out as well including a flash cartoon involving Shrub, Gary Busey, a couple of ferrets, and the mention of "nasty butt sex".