And Amy Sedaris is a Dick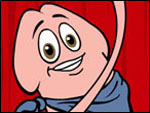 Oh, Lawdy! This is so
not
work and child safe but funny!
PUBERTY PALS
"Today we bring you a sneak preview of the upcoming Kittenpants-produced feature film, PUBERTY: THE MOVIE. The movie stars Joe Lo Truglio, Caitlin Miller, Todd Barry, David Wain, Jon Benjamin, Eugene Mirman, Corn Mo, and
Amy Sedaris, as the voice of a talking penis.
The clip below is only a small animated segment from the film, in which some singing body parts teach kids about puberty.
Click
HERE
to watch "The Puberty Pals" from PUBERTY: THE MOVIE."