Stuff
I'm really having fun with the new camera and Izzy the iPod! Haven't named the camera yet, tho. I will soon. I've downloaded about 14 songs from iTunes so far but I've unfortunately found that there's a lot of songs they don't have! Heck! No Jethro Tull or Lene Lovitch
AT ALL
!?! What's up with that?!?
I'm debating about d/l'ing songs I already have on cd since I could just as easily d/l those onto the 'puter then put them on Izzy. I'll see.
######
And speaking of playing with the camera, I just attempted to crop a screen capture using the Kodak software and now to see how it looks when I post it here!
For those who a fans of
Rent
, there's a new 3 minute long trailer from it out now and can be found
here
. Quicktime needed.
It's going to be released in November either on the 11th or possibly on the 23rd.
(teehee...the pic looks decent enough. Yay me!)
######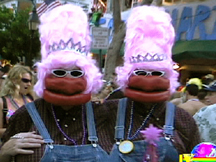 And I had NO idea that The Henson Company had a pair of gay twins that never appeared in any of their shows or movies! :-) Apparently, they attend the same hair salon as
Jan Crouch
.